Elisa
Woman- Between 51 and 65 years
Elisa's questions in the Eluleka Community
---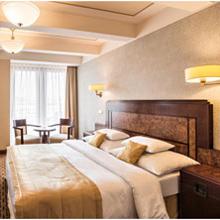 Hotels in Prague
Prague.Prague. Czech Republic
---
Hotels in Prague old town
Next spring we want to go to Prague, more or less we have clear what to visit in Prague, but we have doubts about where to look for accommodation.

Any recommendations about hotels in Prague city center?
---
---
In the Eluleka Community, you can solve your questions about the places you want to visit, by asking other travelers who have already been to them.
Elisa's answers in the Eluleka Community
---
Thyssen-Bornemisza Museum vs Reina Sofía Museum
I am planning my first visit to Madrid and as usual I have to leave many of the places I had originally planned to visit for future occasions. Unfortunately I only have four days.

Some places, such as the Prado Museum or the Royal Palace, I have already decided, but if you had to choose between the Thyssen-Bornemisza Museum and the Reina Sofia Museum, with which of the two do you stay?
Hola Julia, la duda que planteas es difícil de responder.

Son dos museos que no se pueden comparar, porque de entrada contienen colecciones de arte totalmente diferentes. La colección del Museo Thyssen-Bornemisza es espectacular, pero desde mi humilde opinión ninguna de sus obras puede superar en importancia al Guernica de Picasso que se expone en el Museo Reina Sofia.
 
Las obras que se exponen en el Museo Reina Sofia corresponden sobre todo a arte moderno del siglo XX. Las obras que se exponen en el Museo Thyssen-Bornemisza, en cierta manera se corresponden más con las que puedes ver en el Museo del Prado, con la diferencia de que este último se centra en la pintura italiana del Renacimiento y en obras de pintores españoles de todos los periodos, mientras que en el Thyssen-Bornemisza puedes encontrar obras de  Rubens, Rembrandt, Degas, Manet, Vincent van Gogh, Gauguin, Cézanne, además de algunas obras de El Greco, Caravaggio, Salvador Dalí o Pablo Picasso.
 
Espero haberte aclarado alguna cosa, pero la decisión final depende de tus gustos. Cualquiera de los dos que escojas es una buena opción.



Saludos.

---
The Guernica by Pablo Picasso
In the Reina Sofia Museum, in addition to Pablo Picasso's Guernica, are there other important works or the rest are minor works?

I ask it because I do not understand modern art and I must admit that it is something that does not call me much, possibly because of my own ignorance. Although I would like to see El Guernica because of its symbolic charge, I am not sure that the rest of the exhibited works interest me too much.

Thank you.
En el Museo Reina Sofia, no solo está el Guernica. Hay otras obras muy importantes de la pintura moderna y contemporánea, tanto de Pablo Picasso ( Las señoritas de la calle de Avinyó, El Pintor y la Modelo ), como de Salvador Dalí ( Muchacha Asomada a la Ventana, Rostro del Gran Masturbador, Idilio atómico y uránico melancólico ), de Joan Miró ( La sonrisa de alas flameantes, Siurana ), de Juan Grís ( La ventana abierta ) y de muchos otros pintores relevantes.


Además de las obras expuestas, el Museo Reina Sofía es bonito de recorrer en si mismo. Las salas son muy amplias y todo está muy bien organizado. Te puedo asegurar que no te decepcionará, pienso que incluso puede que cambie tu opinión sobre la pintura moderna y contemporánea. Yo misma, hace unos años también me miraba todo lo que tenía que ver con el arte moderno con muchos reparos y ahora reconozco que hay obras que son realmente muy buenas.


---
Duration of the visit to the Royal Palace of Madrid
How much time do you recommend for the visit to the Royal Palace ?
I have visited it several times and the truth is that I always discover details that fascinate me, but for a first visit I would say that you will need about three hours. I particularly love the throne room, with its wonderful mirrors and spectacular ceilings, the royal armory, the armor of Charles V and Philip II, the real pharmacy and Sabatini gardens, the latter a little neglected and very untapped for my taste . As I am a great fan of classical music, I have also enjoyed watching the five Palatine Stradivarius, whenever I have visited it. At night the outdoor lighting is also worth a visit and many photographs. That way you can get even a little bit of what you can not do inside.
---
Latest topics commented ...
---
Do you know the Eluleka travel guides ?
---
Hospital of Saint Paul
Barcelona
Catalonia. Spain
---
Cleopatra's Needle
London
England. United Kingdom
---
Palace of San Telmo
Seville
Andalusia. Spain
---